Nachdem das diesjaehrige PUNK ROCK BOWLING sein Line Up vervollstaendigt hat, geben die Veranstalter nun die Tagesaufteilung der Bands bekannt. IGGY POP, BAD RELIGION, PENNYWISE, FIDLAR sowie COCK SPARRER und ME FIRST AND THE GIMME GIMMES werden die 2017er Ausgabe des in Las Vegas, Nevada ansaessigen 4-Tage-Festivals headlinen - dazu kommen THE ADICTS, OFF! BOUNCING SOULS oder THE INTERRUPTERS - sowie zahlreiche intime Clubshows, die in Kuerze veroeffentlicht werden sollen.
Tickets fuer faire $ 50 pro Tag sowie Hotelreservierungen sind ab sofort HIER erhaeltlich.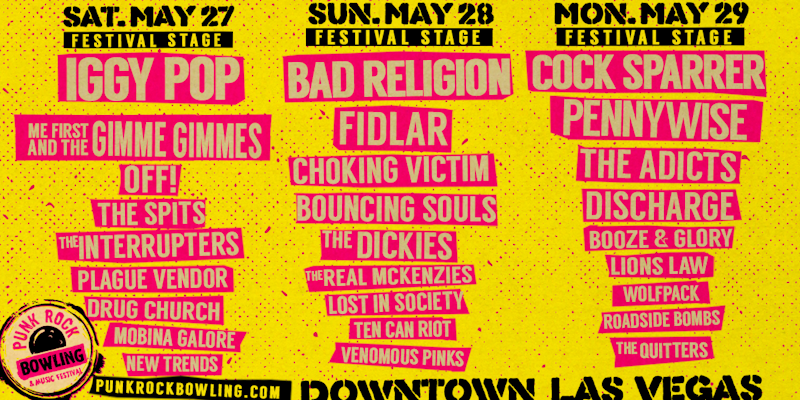 Taking over downtown Las Vegas for 4 days, PRB is a whirlwind of a weekend unlike any other music festival. Make no mistake, this is a Punk Rock Festival and we feature some of the best bands over the past 35+ years, from the old school pioneers and classics to mainstays and up and comers. The brothers Stern have been heavily involved in the Punk community since the late '70′s and spend countless hours scouring their record collections, memories and abilities to reach out to old friends and new to put together an amazing line-up every year.
Once you arrive downtown you don't ever need to leave, everything is within a 5 block radius of the hotel. 3 days of outdoor festival lineups start in the afternoon and features 9 great bands each day on Saturday, Sunday and Monday celebrated with over 7,000 of your close personal punk rock friends and many new lifelong friends to be made. And if that's not enough, their will be 4 late night club shows each night in smaller more intimate surroundings featuring more great bands as well as some special surprises. All in all, over 100 bands will perform throughout the weekend. Throw in 1,000 bowlers at 3 separate bowling centers, a poker tournament, comedy, movie screenings, art exhibits, lounge shows and of course gambling and booze, and you got yourself what we call a punk rock bowling weekend!